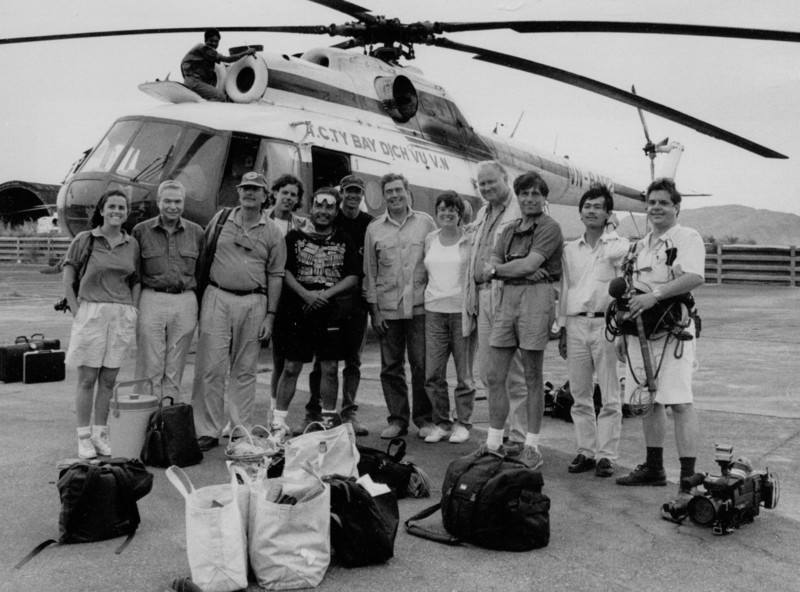 Picture - CBS Reports team on the way to Vietnam. Rather (Dan) Papers, Box 78 Folder 7_0004, Howard Gotlieb Archival Center, Boston University.
"The program was firm and fearless stuff for television . . . and presumably Rather will keep it coming."
—Variety on "The Best Money Congress Can Buy," February 5, 1975
Following President Nixon's resignation and the start of the Ford administration, it was time for a change for Dan Rather. In September 1974, as the New York Times reported, Dan Rather was "being offered prestigious opportunities—as a regular anchorman of the CBS Evening News on weekend and as a regular investigative reporter for the prime-time CBS Reports series of documentaries." In the highly charged political climate of the time, some saw this change as a demotion, following years of tension with the White House. Several owners and managers of CBS affiliate stations even boasted they had pulled some strings and pressured CBS. But Rather explained that he welcomed the move, especially to a show like CBS Reports, regarded as one of the best documentary series of the time. In addition, as he explained in The Camera Never Blinks, it was CBS policy to rotate White House correspondents after each administration. Nevertheless, as Rather recalls, the network received between eight and nine thousand letters, expressing three sentiments: "there were those who thought I got my ass kicked and were glad; those who thought I got my ass kicked and were sympathetic; and those who saw it as a promotion and were happy for me. From my standpoint two out of the three categories did not exactly lift my spirits."
Dan Rather had big shoes to fill when joining CBS Reports. Conceived by Frank Stanton, CBS Reports premiered in 1959, succeeding See it Now (1951–58) the newsmagazine created by Edward R. Murrow and Fred Friendly. 1959 is generally regarded among historians of the media as the beginning of a "golden age" of television journalism; one that had an unusual source. Following the 1950s quiz show scandals, networks promised during Congressional hearings to increase public-interest programming in return for an exemption from the threat of tightened federal regulation. Shows like Eyewitness to History and CBS Reports on CBS, and White Papers on NBC, paved the way for more than two decades of long-form documentaries devoted to a single subject treated in a journalistic style. As James Roman put it in his 1989 book on television, "it soon became apparent that [CBS Reports] would address contemporary themes in a confrontational manner. . . . The series matured during the 1960s and 1980s and became a forum for serious analysis of matters of public interest. Some of its more notable efforts included 'The Selling of the Pentagon,' 'The CIA's Secret Army,' and the five-part series 'The Defense of the United States.'"
"This four-part series certainly deserves a place in the history of distinguished television documentaries."
—Los Angeles Times on "The American Assassins," January 5, 1976
Journalist and filmmaker Leslie Cockburn described the show in 2013 as "the hour-long documentary program that was famed for Edward R. Murrow's classic film on migrant labor, 'Harvest of Shame' and the recent 'Selling of the Pentagon.' CBS Reports was 'the jewel of the Tiffany Network.' Producing and directing CBS Reports hours was a coveted position in television news. This was the height of television journalism. Each documentary was a substantial and beautifully edited film that took nine months to research, shoot, and cut."
During the 1960s and early 1970s, CBS Reports correspondents included Harry Reasoner, Eric Sevareid, Walter Cronkite, David Schoenburn, Charles Collingwood, Marvin Kalb, Charles Kuralt, Mike Wallace, etc. In 1974, Rather was scheduled to appear on 10 to 12 shows a year, "the first time since Edward Murrow that a single newsman has anchored all of the Reports' output." Offered the chance to beat Edward R. Murrow's standard of documentary excellence was altogether another kind of pressure, as Rather explained in 1974: "Now, that's pretty heady stuff for anybody . . . Even though I know it's an impossible target . . . it still gets to you. They told me CBS Reports is our major documentary series. You know that all our best producers work there. We want you to take over there, pick the subjects you want to make, tell us where and when you want to shoot, and when you're ready we'll put them on the air in prime time." As he told Broadcasting, Rather welcomed the opportunities to be "off the cutting edge of daily journalism" and to have "time to think" for the first time in months. As he reported later, CBS involved "a lot of research, lot of writing, rewriting, working with producers." He spent a year and a half watching as many of Murrow's documentaries as possible, and he had specific ideas about the types of reports he wanted to do: away from the corporate style of contemporary documentaries and back to Murrow's and Reasoner's kind of personal journalism. Rather explained to the Los Angeles Times that "Murrow's programs always gave you the feeling—because it was true—that he was emotionally involved with every aspect of them. That's what I hope to aim for."
During his 12-month tenure at CBS Reports, Dan Rather contributed to a dozen shows, including some on misuses and abuses of prescription drugs, the congress, the myth of the I.Q, and vinyl chloride. He did special such as the "Battle of Afghanistan," in 1987 and "Murrow vs, McCarthy: When America Trembled," in 1994.
Preferring the fast pace and regular schedule, Rather eventually joined the 60 Minutes team in December 1975 and then became the anchor for the Evening News in 1981. He continued, however, to participate over the years to investigate reports for CBS Reports, enjoying the opportunity to delve more deeply into topics. Starting in 1993, CBS Reports was reincarnated and Dan Rather did a handful of such long-format reports.